Another successful launch for Harris Grant's marine division
Fifteen years on from Harris Grant's first commission with superyacht builders Amels, it's a real pleasure to see our latest marine project leaving dry dock.
Currently known only as '206.1' until formally handed over to the Owner and delivered, the 62.5m vessel is the first craft in Amels' stunning new 206 Limited Edition series. Constructed in Vlissingen, she's about to commence sea trials before completion in a few months' time.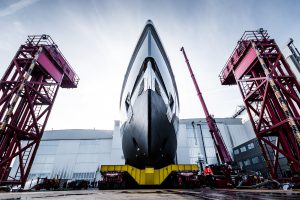 Designed by Tim Heywood, 206.1 bears the opulent hallmarks you'd expect from an Amels craft. Luxurious accommodation for the vessel's owner and eleven guests is complemented by two VIP suites and a large sundeck featuring a jacuzzi and teppanyaki grill.
Harris Grant has overseen all AV/IT, entertainment and control systems on board, with KNX software orchestrating control and management of lights, blinds, drapes, air conditioning, heating and cooling.
4K video on TV sets in bedrooms and luxury areas is distributed as low-latency IP traffic, with AV content converted to IP by Crestron DM NVX encoders. Networking throughout the vessel is by Cisco, who've also supplied IP phone systems.
Our award-winning iPad interface allows guests and crew members fingertip control of lights, climate, entertainment, steward calls and other on-board systems.
Harris Grant remains closely involved in the project right up to launch day, and we'll continue to support the vessel's Owner on an ongoing basis following final handover.