Some of Harris Grant's most rewarding commissions have been home studios created for professional musicians.
I'm often asked to pick highlights from dozens of studio design projects I've been involved with over almost four decades. Naming a favourite is nigh impossible. But some of Harris Grant's most creatively rewarding jobs have been personal commissions from clients who want to write and record at their own facilities, away from the inspiration-sapping pressure of a ticking studio clock.
Commercial recording studios (and their record label clients) aren't generally known for taking extravagant commercial and creative risks. Like a hotel or restaurant, money's being lost every hour a room isn't occupied by paying clients.
In the circumstances, it makes perfectly good sense to build identikit spaces that resemble other profitable facilities, from the acoustics, hardware, monitoring and decor down to Herman Miller's ubiquitous Aeron chairs.
The same economic pressures don't apply in a domestic environment: and that gives the designer tremendous freedom to create a space focused solely on the artist's interests. Accordingly the home studios we've delivered for professional musicians have offered the chance to experiment with unusual materials, finishes and techniques, often with spectacular results.
It's rare to see daylight in many urban studios; indeed some artists really don't want to know the sun's rising at 5am. But it's a different story at a private facility far from the city. Without the worries of extensive isolation or visual privacy, huge expanses of floor-to-ceiling glass function as an acoustic diffusor, while allowing natural light to flood into a room and offering breathtaking views of surrounding countryside.
Just as importantly there's an opportunity to create a space that's perfectly tailored to an individual's personal workflow, rather than finding a compromise solution that's going to suit most artists, producers and engineers most of the time.
One of Harris Grant's earliest 'private' commissions was Real World Studios. Revered by producers and artists – and today a thriving commercial facility in its own right – Real World gave us the opportunity to create the ultimate personal studio for Peter Gabriel. The facility's stunning location near Bath sets it geographically and spiritually far apart from the London studio rat race. When we started work on the design in 1986, it also offered an opportunity, with Peter's enthusiastic support, to break some fundamental design rules that hadn't been challenged for decades.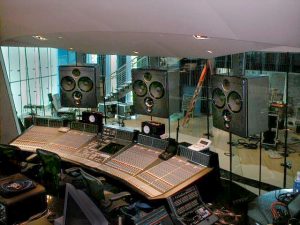 In a traditional studio the artist performs in their own acoustically isolated area, separated by a glass partition from the producer who sits in the control room with an intercom as their only means of communication. The signature 'Big Room' at Real World demolishes this impersonal divide, uniting musicians, technicians and producer in one vast, bright space that's a source of limitless creative inspiration.
The success of Real World triggered further Harris Grant commissions from several top-tier artists, including producer Mutt Lange, to build their own personal facilities. And through the introduction of Peter Gabriel, Harris Grant was privileged to create two truly unique studio spaces at the Washington home of Microsoft co-founder and keen musician Paul Allen: arguably unmatched in scale, luxury and technical sophistication by any other private recording facilities on the planet.
Today, we're continuing to mix 'business' and 'pleasure' for Harris Grant clients who want to enjoy state-of-state recording facilities in the comfort and seclusion of their own homes – and on their own uncompromising creative terms.