Our sea-faring technical specialists have just returned from Vilanova Grand Marina, Barcelona, where they've spent a busy week fine-tuning one of our most memorable marine creations.
Back in 2012 we put the finishing touches to AV, IT and communication facilities on board this stunning 65m superyacht that comfortably accommodates up to 14 guests overnight in seven luxury cabins with a crew of 16.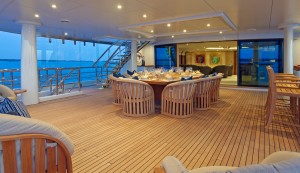 Constructed by Netherlands shipbuilder Amels, the privately-owned vessel is a unique showcase for Harris Grant's creative partnership with marine architect Tim Heywood and interior designer Andrew Winch.
Our original brief was to provide entertainment and technical facilities throughout all areas of the new-built motor yacht, including wireless roaming and digital distribution networks.
Also included in the commission is maintenance and support to keep everything in tip-top condition, and over the last four years we've made periodic visits at the owner's invitation to perform software updates and other minor tweaks.
Our latest trip has been to perform further upgrades in readiness for the vessel's departure for the Caribbean season.
Guest areas have been enhanced, allowing on-board guests to enjoy wireless music and video playback via AirPlay from their own iPads or iPhones. We've also re-written Crestron code for a sleek new JetStream interface, allowing guests to explore a huge range of streamed TV entertainment in all luxury areas.